Copenhagen Summit
In 2012 the Kyoto Protocol to prevent climate changes and global warming runs out. To keep the process on the line there is an urgent need for a new climate protocol. At the conference in Copenhagen 2009 the parties of the UNFCCC meet for the last time on government level before the climate agreement need to be renewed.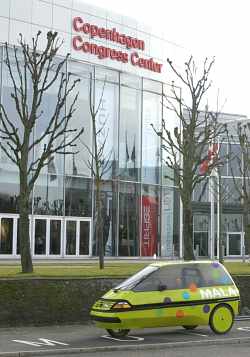 Therefore the Climate Conference in Copenhagen is essential for the worlds climate and the Danish government and UNFCCC is putting hard effort in making the meeting in Copenhagen a success ending up with a Copenhagen Protocol to prevent global warming and climate changes.
The Climate Conference will take place in the Bella Center. The conference centre is placed not far from Copenhagen and near the Copenhagen Airport, Kastrup
Governmental representatives from 170 countries are expected to be in Copenhagen in the days of the conference accompanied by other governmental representatives, NGO's, journalists and others. In total 8000 people are expected to Copenhagen in the days of the climate meeting.
The host of the meeting in Copenhagen is the government of Denmark represented by Connie Hedegaard, the Danish minister of Climate and Energy and Prime Minister Lars Løkke Rasmussen. The official sekretariat is placed in connection to The Prime Ministers Office in Copenhagen. Originally the hosting of the climate conference was initiated by the former Prime Minister Anders Fogh Rasmussen.
The Danish Government has decided that not only the subject of the conference should be focused on the climate but also the conference itself. Among other initiatives the organizers work on mounting af windmill near the Bella Center to produce climate friendly electricity for the conference.
The conference in Copenhagen is the 15th conference of parties (COP15) in the Framework Convention on Climate Change. The recent meeting in United Nations Climate Change Conferences was held in December 2007 in Bali.